| | |
| --- | --- |
| Posted on April 12, 2020 at 10:10 AM | |
Sometimes to go forwards one needs to go back, and we have sometimes had to do this at the Museum as we added a new year or discovered something new. This was definitely the case a few weeks ago whilst writing about 1981. I noticed on eBay that there was a Summertime Fun Sindy in a yellow swimsuit which the seller thought might be from 1980. This perked up my interest because I have just written about the 1981 Summertime Fun Sindy and in the official Pedigree catalogue she was the same doll as the one for 1980. That Sindy was a basic 2nd Gen who wore a bright pink halter neck swimsuit (Ref 44716). Ugh I thought, we've missed a doll.
Now one of the drawbacks of only collecting brunettes is that you miss out on collecting dolls that only came as blondes, such as the 1981 Party Time Sindy which was a blonde bunches doll. On the plus side, it does mean that you are less likely to go bankrupt trying to obtain a version of every Sindy ever made, and another plus point is that by focusing only on one hair colour you become much more attuned to other differences.
So, the Sindy on eBay had the reference (Ref 44715), whilst this could indicate that it was an earlier doll, it could also indicate a later doll because the referencing in the 1980s goes a little haywire. In the eBay photograph the Sindy doll herself certainly looked like a 2nd Gen and maybe 1980 was the right year. I must confess I didn't look closely at the box. I rechecked all the 2nd Gen years in the Pedigree catalogues but I couldn't find this doll. Well it was a brunette and I didn't have it, so I thought it was worth a bid. I was very pleased to win it.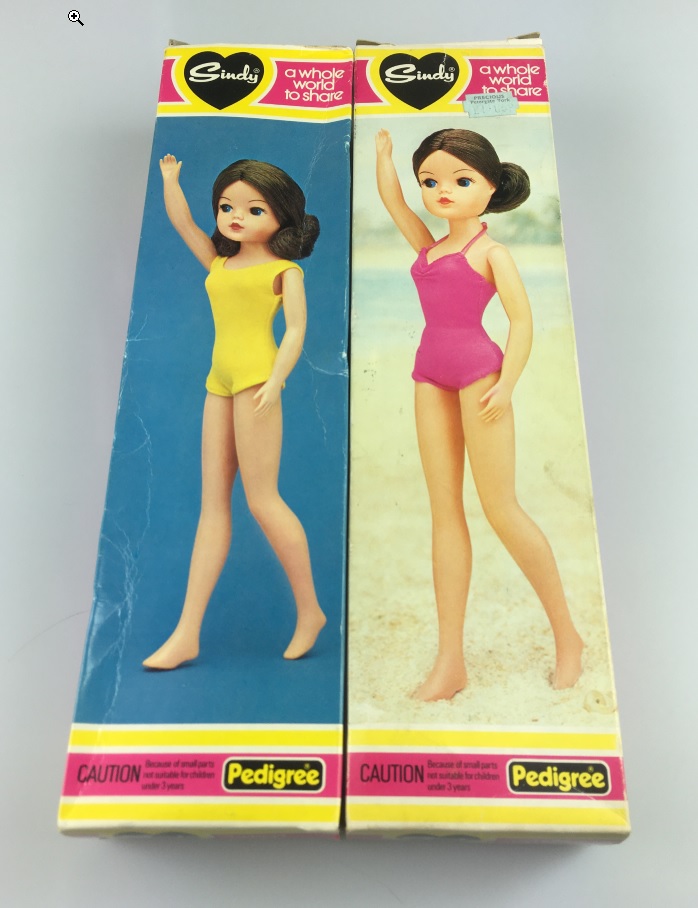 When the doll arrived the most noticeable thing was in fact the packaging, the doll shown on the box was actually a 033055X Sindy. You can see this very clearly when you place this box next the 1980 Summertime Fun box. So, from the box a later 1970s doll, but no later than 1978.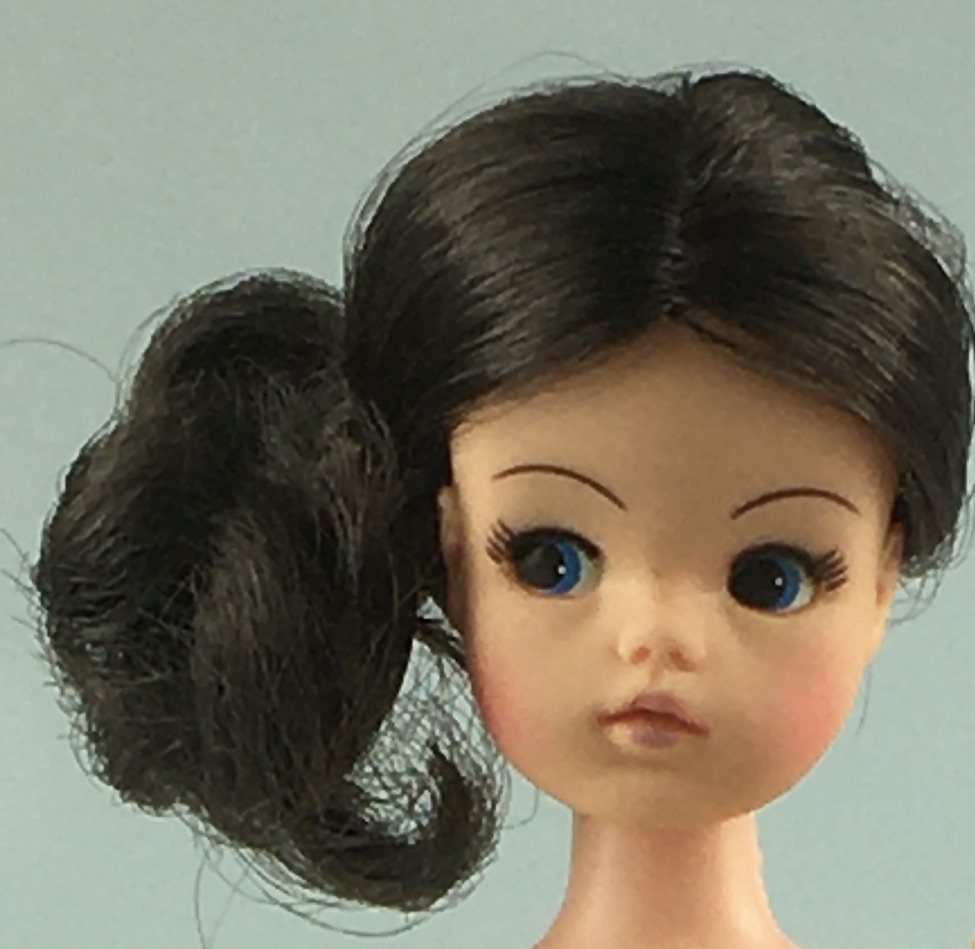 But, on removing the doll from the box she was clearly a 2nd Gen which would place the doll as no earlier than 1979. She was wearing a yellow stretch nylon swimsuit which is the same one that came with the 1977 'Sun Lounger' mini scenesetter (Ref 44423) and was again used for the 1978 uncatalogued 'Sunshine Girl' (Ref 44693). So the product timeline makes sense.

We know that in 1979 most Sindy dolls were now repackaged in new "scenic" window packs which had cellophane fronts with a pretty illustration behind Sindy to reflect and complement the doll's outfit. This coincided with the release of 2nd Gen dolls. The exception was the 'Funtime' Sindy which still came in a basic printed illustrated box. Looking more closely at photos of 1979 Funtime printed boxes (unfortunately I don't have an original one of these), I think on reflection it also shows a 033055X Sindy which is also shown against a blue background. In all probablility the boxes were designed before the 2nd Gens were available because of the time needed to print and manufacture the boxes. If you have the boxed Funtime Sindy from 1979 in the check dress I would be grateful if you could kindly take a look and let us know what Sindy you think she is?

So, we believe that the yellow swimsuit Summertime Fun Sindy (Ref 44715) is an uncatalogued 1979 doll. Her box, just like the 1979 Funtime Sindy, was probably designed using the existing doll but she was in fact one of the new basic 2nd Gens.
She has been added to the 1979 Sindys which has now been updated.
As always we would be very interested to know what you think and may we take this opportunity to wish you a very happy Easter and we hope you and your loved ones keep safe and well.
Categories: Sindy Dolls