| | |
| --- | --- |
| Posted on April 26, 2022 at 9:15 AM | |
Back in September 2003, a birthday party was held at Sudbury Hall Museum of Childhood for Sindy's 40th birthday. David Fear, Pedigree's Product Manager in the 1960s, was asked what he would have done differently with hindsight back in the 1960s. He replied, "Not Released Patch". His reply was met with audible gasps from the audience. His thinking was that Pedigree lost its way by releasing Patch and Sindy's other friends, and they stopped focusing on their main product, Sindy (12S, Issue Number 9, Page 8).
We know that by beginning of the 1970s Line Bros. Ltd, Pedigree's parent company, was in trouble and in 1971 they called in the Official Receiver. Pedigree, along with some of the other Lines Bros subsidiaries, were subsequently sold off to Dunbee-Combex-Marx.
Whilst Patch is very well loved today, he probably wasn't wrong. In business, variation leads to complexity, and complexity leads to increased costs. It can also result in a company taking its eye off its main product offerings.
Also, there was the issue of the huge number of Patch original outfits that were made. Warehousing and the maintenance of stock is costly; let alone the money that was sunk into buying that stock in the first place (which is dead money until that product is sold). Various accounts tell of how Patch's original Mint in Box (MIB) outfits were available well into the 1970s, long after Patch herself had been delisted. Indeed, it is still relatively easy to find MIB Patch outfits on auction sites such as eBay today.
Pedigree used a number of different ways to clear that stock. They introduced in 1970 a Patch dressed in just a baby doll nightie, probably hoping that new owners would want to buy clothes for her. At the same time, the prices of those outfits were reduced.
Additionally, Pedigree had introduced Poppet who could wear Patch's clothes and in the 1970s after Patch was delisted, the 1st edition June who was the same size as Patch.
All of this brings us to the Debenhams Patch. Dressed in just a pair of panties, this pretty doll was available, along with a special offer of discounted original Patch outfits in Debenhams. She was probably a last-ditch attempt to clear the warehouse stock.
We are delighted that we have been able to add that last Debenhams Patch to our final 1972 page for Patch. She's a lovely doll. Please do take a look, and if you have any more information on Patch in her final years or the Debenhams Patch, please do get in touch.
Grateful thanks to Gill for sharing another of her lovely boxed dolls, and also for yet again answering so many questions about her.
https://www.oursindymuseum.com/1972patch.htm

| | |
| --- | --- |
| Posted on October 8, 2020 at 9:30 AM | |
Back in 2011, Kathy and I took our Sindys along to a Toy Museum for a Day charity event. You can read all about it in our articles section. One of our most popular little exhibits was our Brownie camp. It was just something we pulled together using Kathy's Patches and some camping bits of mine.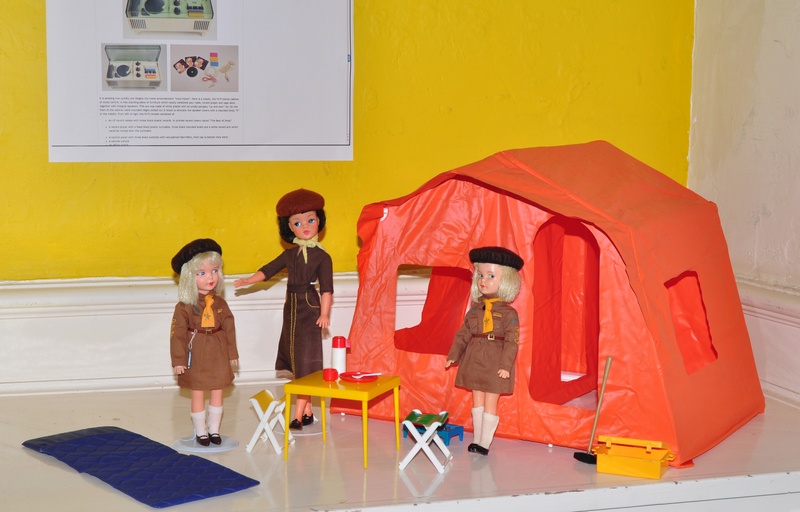 L
Lots of Mums and Grandma's were really pleased to see the brownies and many happy stories were shared. Patch's detailed Brownie outfit is still very popular and beloved by many collectors old and new.
A few months ago, Karen kindly wrote to us to confirm that Patch's green badge indicated that she was a member of the Pixie Six.
We then asked if anyone knew what were interest badges that Patch had on her right arm?
Lucinda has now written to us to let us know that they were First Aid, Needlework and Cooking. This is what Lucinda said:
I - like Patch - was in the Pixie Six, where I eventually rose to be the Pixie Sixer - probably my greatest achievement yet. You ask on the page what other badges Patch had on her right sleeve - in case nobody else has let you know they are, from top - First Aid, Needlework and Cook. I was determined to get all these three to be like Patch.
Patch's uniform is an authentic representation of the outfits worn by Brownies at that time. It was an outfit which had remained largely unchanged since the 1930s, apart from the introduction of a gold tie in the mid 1930s and the new brown beret in 1950. Pedigree captured quite an important aspect of our 20th Century social history, faithfully reproducing a doll's outfit that most people in the 1960s would have immediately recognised and which was worn by so many little girls. In 1968 the Brownie uniform was updated and the dress and tie were redesigned.
Our 1967 Patch exhibit has now been updated