| | |
| --- | --- |
| Posted on September 6, 2021 at 5:15 AM | |
Happy Birthday Sindy!
Today Sindy is 58 years old and our website has been running for 11 years now. We wish we could say that we were looking as good as Sindy does with those extra years.
It seemed a good idea therefore to return to one of Sindy's nicest party outfits to update it with a couple more variations for her birthday. Hallo Dolly (Ref 44232) is a wonderfully exhuberant 1975 Outfit, it's very pretty although a little fragile as the material frays very easily. In the mid 1970s, there were a few dolls, such as Mego's Cher (1976-81), dressed in gorgeous stage show outfits and it's good to know Sindy had one too.
So today we have added a two variations, making a total of seven that we now know of. Added today is a very beautiful French variation in a beautiful bold red pattern which is usually worn on brunette Sindy. This variation is from Isa, thank you!
Isa writes a French doll blog and her main collections are Petra, Tressy and Bella Cathie. I like doll blogs because I know I am very Sindy focused and it's good to just read widely around the subject of fashion dolls so that you can understand her context.
Isa's blog can be found here and if you are not a French speaker, don't forget you can use Google translate to read websites in a foreign language

https://lescathydisa.skyrock.com/
With continuing thanks to Marjoke from the Netherlands who supplied our orginal Hallo Dolly photo
| | |
| --- | --- |
| Posted on July 21, 2021 at 8:45 AM | |
There is always a great feeling of satisfaction when we can complete a previous year with a hoped-for missing item.
A long, long time ago we asked if anyone had the beautiful McSindy outfit with the orange and blue kilt. We knew this was a big ask, it's a difficult outfit to collect anyway and NFRB (Never Removed From Box) seemed almost an impossible request. But we were given the yellow & black version and the blue & black version, so we thought we could at least ask.
Starla, who is an awesome doll collector, has now generously donated a pic of her NFRB orange and blue version to complete the trio of NFRBs McSindys that we know about.
1976 Sindy Outfits and Separates has now been updated and we remain grateful to Annet and Jacquie who provided the original two variations.
So that's another set of variations we believe we found, unless you know otherwise...
| | |
| --- | --- |
| Posted on May 10, 2020 at 1:20 PM | |
It's always a joy to amend the Museum when we find out something new. We always said we didn't know everything and would be happy to amend if other collectors had something we didn't know about. Today we have revised the 1970 Sindy Weekenders (Ref 12GSS) (Boxed doll outfit). We now know she did indeed wear an elasticated red headband thanks to the lovely Karie.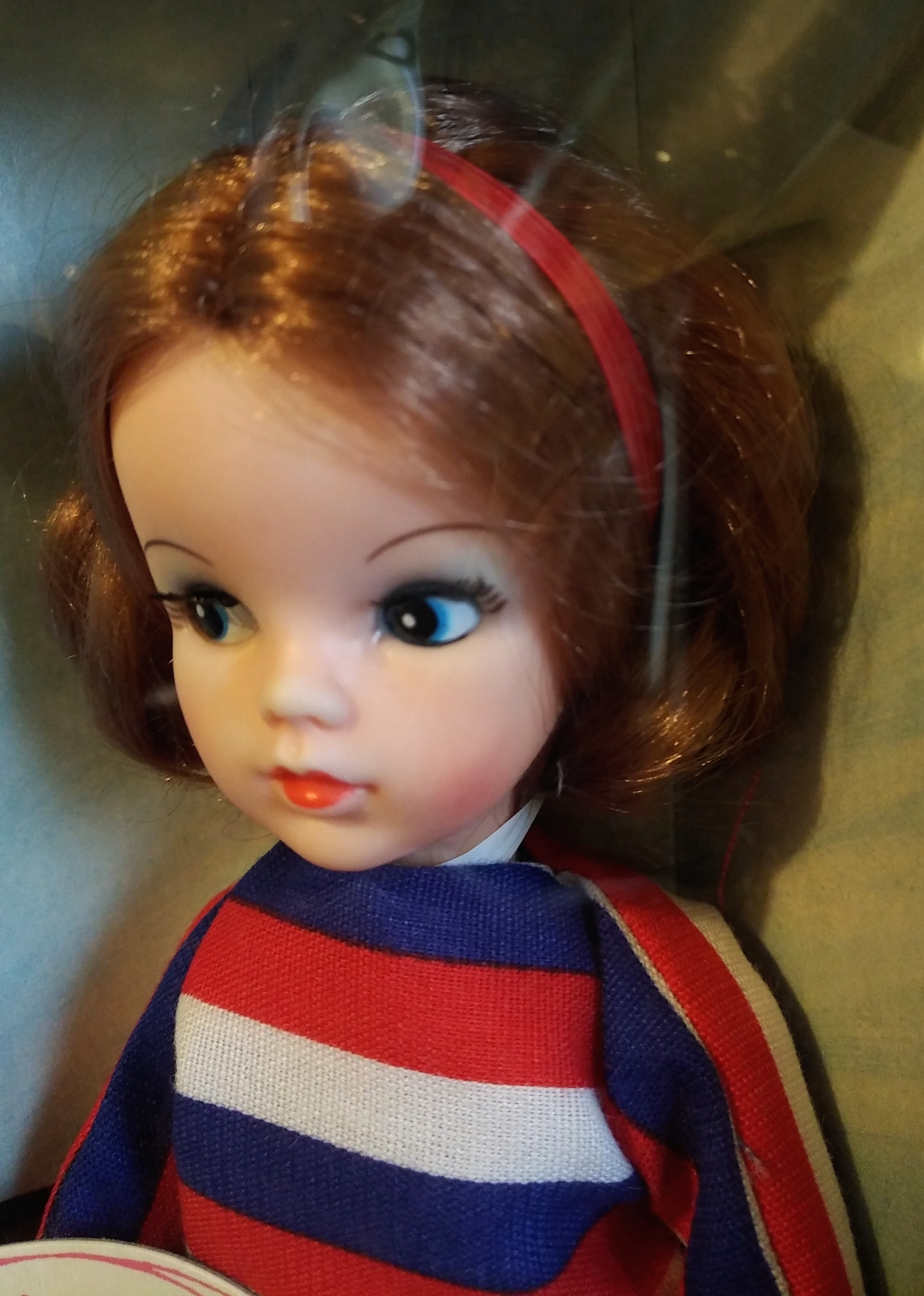 We have amended 1970 to show that this Sindy came with a headband and updated 1969 to refer to this discovery also. Thank you Karie for your attention and care.

| | |
| --- | --- |
| Posted on April 19, 2020 at 9:35 AM | |
I was talking to my friend the other day and she asked me how was I coping with lockdown? Well I said I have very clean kitchen cupboards and I'm writing for the Sindy Museum again. "You still haven't written about homemade clothes yet" she sighed. Now this is true, but they are on the list of things to add to the Museum as we recognise they form an important part of Sindy's history.
In keeping with many Sindy owners, my friend's Sindy only had a couple of bought outfits. She remembers having Bell Sleeves (1974) and Checky Coat (1975) and a couple of cheap clone doll outfits. All the rest of her Sindy's clothes were made by her mother and her grandmother; and in fact her grandfather made her Sindy's wardrobe! Even the most luckiest Sindy owners, who had a majority of bought Sindy outfits, often had some homemade too. And of course some owners, like Kathy here, only had a Sindy doll and everything she wore was homemade.
These clothes could be sewn or knitted and were well catered for by the sewing and knitting pattern manufacturers. Sadly over the years, with the advent of cheap and accessible bought clothing, the art of home dressmaking and knitting has declined apart from a few talented individuals who still make their own garments today.
Still, a number of collectors enjoy looking at and collecting vintage patterns, and some Sindy anoraks like me also enjoy looking for and collecting those homemade clothes that came from those patterns. You can often find them in Sindy clothes bundles on eBay and sometimes nice ones are listed separately but still don't cost very much to buy.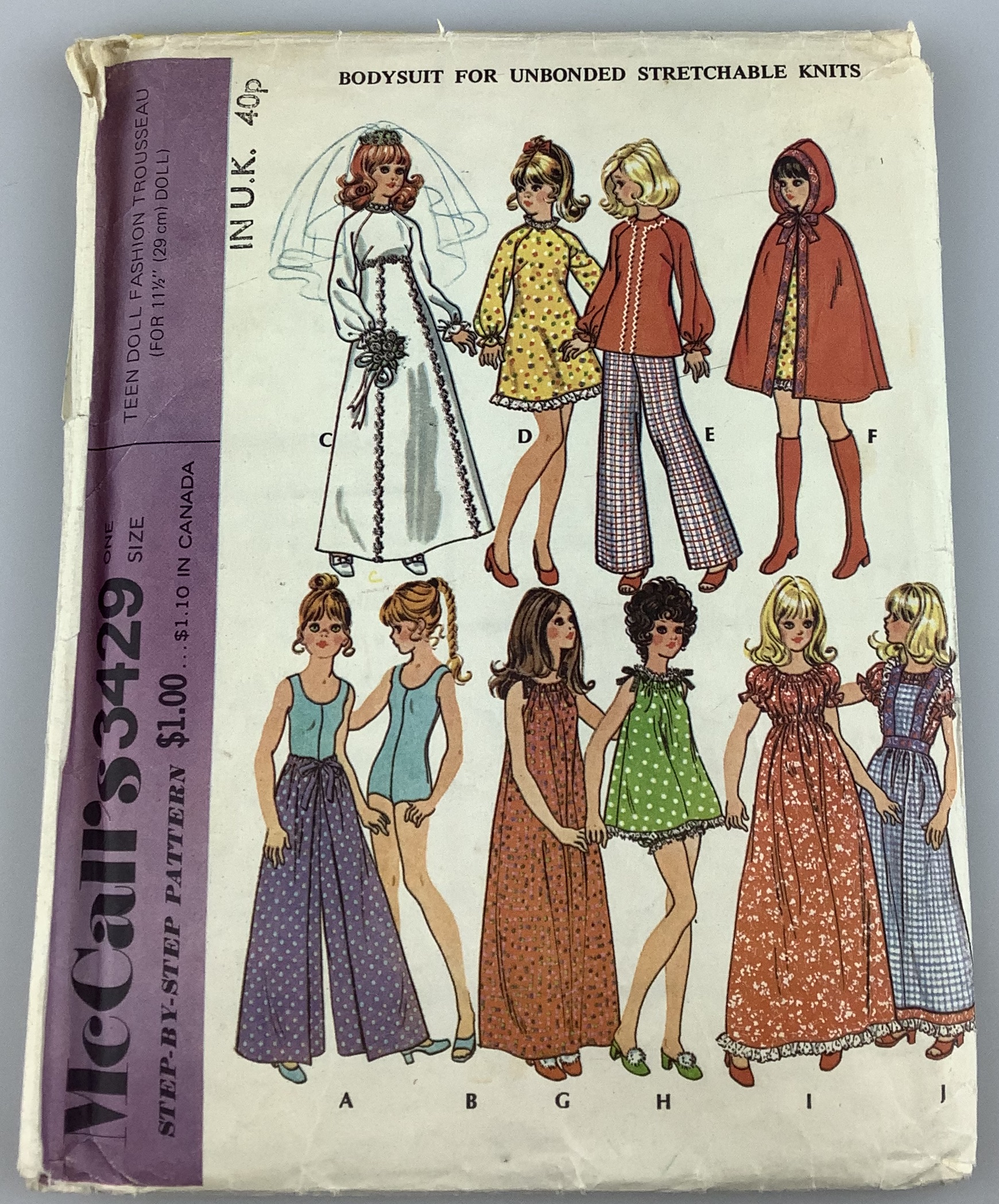 So, I thought for this week's blog I would share with you one of my favourite sewing patterns for Sindy. Here is McCall's 1972 pattern 3429 for a teen doll fashion trousseau. As you can see it cost 40 Pence at the time.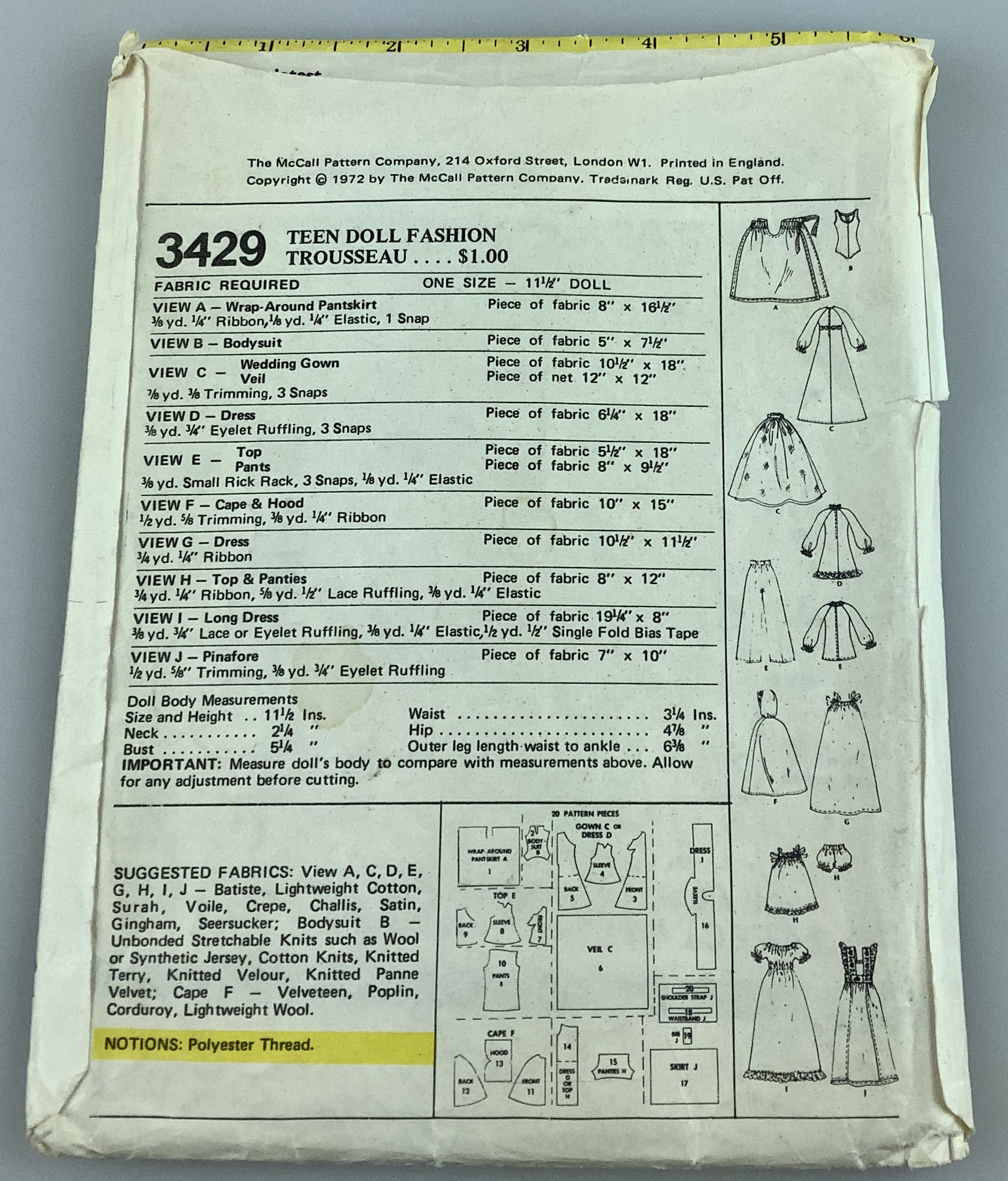 I love how the pattern suggests using lots of different fabrics, although it is not surprising that this collection mainly uses those mainstream fabrics of the time nylon and crimplene! Ric rac, lace and embroidered trims, ribbons, all their contemporary fabric embellishments are here too. They adorned Sindy's outfits and ours. In fact, both my sister and I had matching Mum-made crimplene maxi-skirts with two rows of embroidered trim at hem… we felt very grown up and fashionable in those skirts. We wore them to death although being made of crimplene they were pretty much indestructible so even when we grew we were still wearing them as midi-skirts!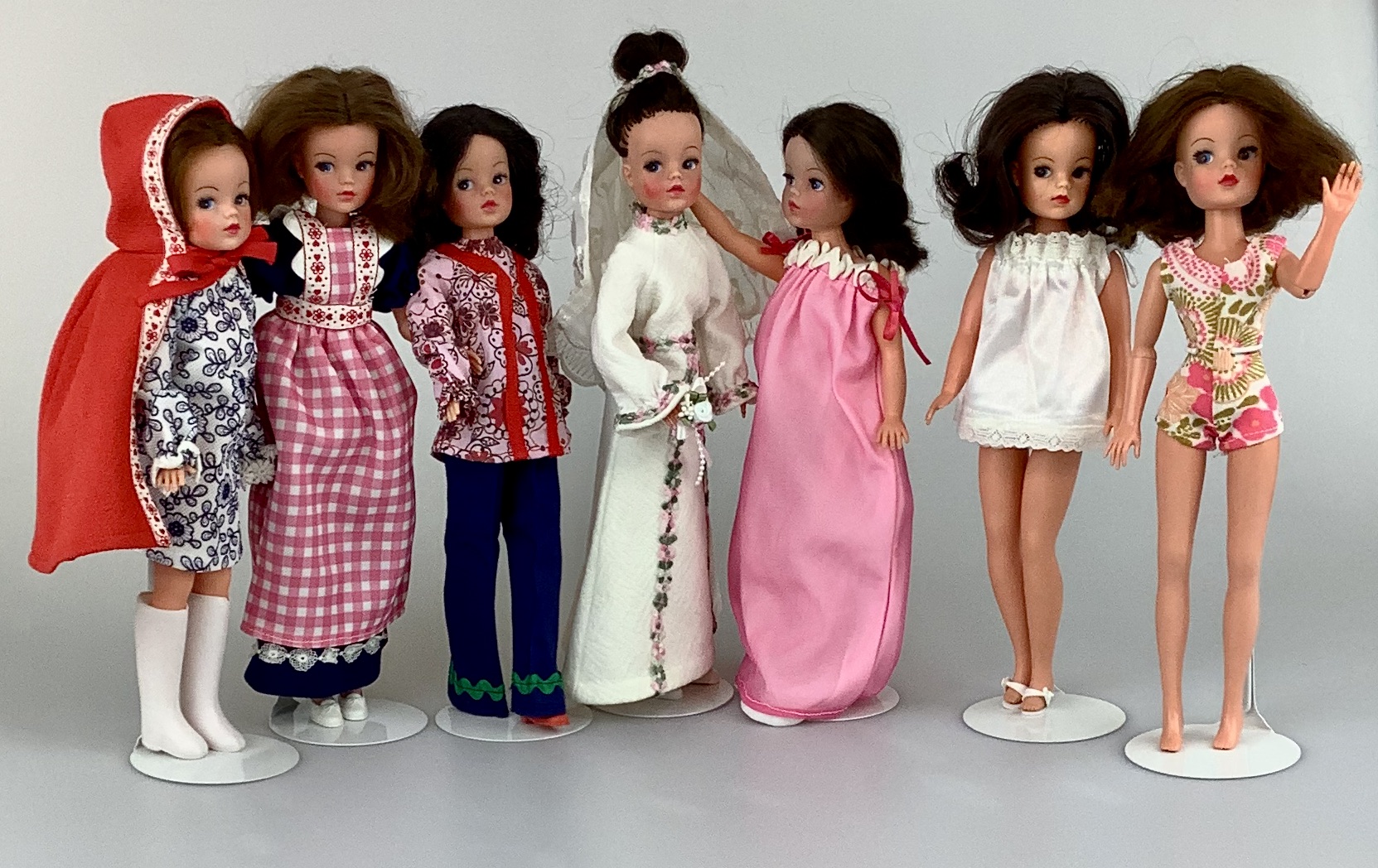 I bought these clothes first (apart from the wedding dress and veil) because I really liked them when I saw them in a lot on eBay. I did not know they came from an actual sewing pattern until a couple of years later when I spotted the pattern for sale. The wedding dress and veil were in Kathy's collection which she kindly gave me. I do hope that one day I will find the wraparound pantskirt to complete this set. Shoes and bouquet are models' own.

I hope you enjoying seeing this set. Forgive the girls for looking a bit messy, I was going to photograph the outfits flat but I got a bit carried away.

Keep safe and well in these difficult times