| | |
| --- | --- |
| Posted on September 21, 2021 at 9:00 AM | |
Very, very happy today to add the missing 1981 Blue Party Time Sindy which we show in her box to match the pink and the yellow versions we have already. This lovely mint doll was donated by Joanne from Essex, who describes herself as a Sindy devotee. We may be a tad biased, but we can't think of a better doll to devote yourself to Joanne.

Sindy was definitely 'on point' with this outfit, and it is sometimes attributed to the 1981 Eurovision Song Contest British entry "Making Your Mind Up" by Bucks Fizz. The dance routine for the song had Cheryl and Jay's midi-length skirts ripped off in the middle of song revealing shorter skirts. It's been pointed out that the Sindy skirts can equally be quickly removed to reveal her dance leotard underneath. However, the Sindy outfit would have been devised in 1980 to make it into the 1981 catalogue and Bucks Fizz was formed in January 1981 and performed the dance routine in the UK's 'Song for Europe' in March 1981, going on to win the 1981 Eurovision Song Contest in April. Aah those were the days winning a Eurovision sigh, these days I am just thrilled if we get a point!
Anyways back to Sindy, rather than attributing the Sindy outfit to Bucks Fizz, maybe it was the other way round? Just a thought...
With thanks to Bob and SAS (Pink Outfit), Sonya (Yellow Outfit) and Joanne (Blue Outfit) for helping to create our rockin Party Time line-up.
| | |
| --- | --- |
| Posted on September 10, 2021 at 7:45 PM | |
Did you know every Friday night in Paris is roller skating night? Pari Roller has been going since 1994 and is held every Friday from 9:30 pm to Midnight. It normally starts near Montparnasse Railway Station and is a circular skating route through Paris at night. It is only cancelled in bad weather. And best of all, it's free to participate.

For example tonight (10th September 2021) the journey starts at Montparnasse Railway Station, has a break at Louvre Museum, finishing back at Montparnasse Railway Station covering a distance of 20.62 km.
Since 2019 the 'hike' has been open to other forms of mobility, be it human or electric powered, but these forms of travel are requested to stay behind the skaters. The French Police and Pari Roller volunteers supervise the procession with the police forming a safety bubble to the front and rear of the skaters. It is manadatory now to wear a face mask in these Covid times, but it is wonderful to see the event is still being held.

It looks like a lot of fun and now I really wish I could roller skate!

So to celebrate the wonderful Pari Roller we've added four lovely photos from Starla of her Skater Sindys. As you can see there is some nice variations here with both 2nd Gens and Sad Faces. If you have a different girl, please do send us a photo. Thank you again to Starla for your generosity in sharing!
| | |
| --- | --- |
| Posted on September 6, 2021 at 5:15 AM | |
Happy Birthday Sindy!
Today Sindy is 58 years old and our website has been running for 11 years now. We wish we could say that we were looking as good as Sindy does with those extra years.
It seemed a good idea therefore to return to one of Sindy's nicest party outfits to update it with a couple more variations for her birthday. Hallo Dolly (Ref 44232) is a wonderfully exhuberant 1975 Outfit, it's very pretty although a little fragile as the material frays very easily. In the mid 1970s, there were a few dolls, such as Mego's Cher (1976-81), dressed in gorgeous stage show outfits and it's good to know Sindy had one too.
So today we have added a two variations, making a total of seven that we now know of. Added today is a very beautiful French variation in a beautiful bold red pattern which is usually worn on brunette Sindy. This variation is from Isa, thank you!
Isa writes a French doll blog and her main collections are Petra, Tressy and Bella Cathie. I like doll blogs because I know I am very Sindy focused and it's good to just read widely around the subject of fashion dolls so that you can understand her context.
Isa's blog can be found here and if you are not a French speaker, don't forget you can use Google translate to read websites in a foreign language

https://lescathydisa.skyrock.com/
With continuing thanks to Marjoke from the Netherlands who supplied our orginal Hallo Dolly photo
| | |
| --- | --- |
| Posted on September 2, 2021 at 9:25 AM | |
Sometimes in updating the Museum you come across something which means you need to rewrite whole sections. Half of me thinks... pretend you didn't notice that, the other half thinks... nope you have to record that! 
So Ball Gown (Ref 44375) which was so straightforward now shows three variations and discusses the conundrum of what was the right choker for this outfit. Thank you Martina of The Little Sindy Museum in Sweden for the Green Ribbon variation of Ball Gown and for your attention to detail when considering the fabric.

Changes in this update are as follows:
Addition of the beautiful black Sindy boxed doll (Ref 44642U)
Inclusion of a newly discovered Sweetlife (Ref 44348) variation

A rewrite of Ball Gown (Ref 44375)
| | |
| --- | --- |
| Posted on August 19, 2021 at 8:15 PM | |
The 1982 Sindy Outfits and Separates are now online!
Finally we have completed this quite difficult year. A lot of our issues surrounded dolls that we knew of which were not shown in Trade Catalogues and issues regarding their details.
There are still dolls and outfits which we haven't included yet because we still cannot verify the year for certain:
We still can't prove if the bunches Sindy in the T-shirt and shorts sold in a bubble pack shown on page 163 of Colette Mansell's History of Sindy is 1981 or 1982 or some other year entirely.
We still cant be sure of what year the Funtime Sindy wearing the yellow shirt and red skirt that came with the Camping Buggy was, but we do now know the reference. To recap, there are three sets which came with a dressed Sindy doll. Funtime Sindy with Dining Table and Chairs (Ref 44891), Funtime Sindy with Camping Buggy and Tent Set (Ref 44892) and Funtime Sindy and her Country Garden (Ref 44893).  If you have any thoughts, please let us know.
There are bound to be typos or errors which we will put right asap. As always if you spot anything or don't agree with what we have said, no matter how trivial it may seem, please do let us know!
Also, any Sindy variations or anything else you have noted about this year are always welcome.
You will see there is a shout out for Skaters for 1982, it would be so cool if we could show all the different Skaters because they are lovely and a lot of fun and they make us smile.
From the acknowledgments you will see this was a bit of a worldwide effort, and we are very grateful to everyone who helped.
Special thanks to Donna from the US, Patricia from the Netherlands, and Starla from the UK, who patiently considered our questions and generously provided their knowledge, observations and opinions, and generally kept the author sane! Thank you ladies.
https://www.oursindymuseum.com/1982-sindy
| | |
| --- | --- |
| Posted on July 20, 2021 at 11:40 AM | |
Last October we substantially revised Sindy's new friends to include additional details of the boxed dolls and information on the new friends competition. Lots of you said how much you liked the additional detail, thank you!

At that time we were also able to show a new exhibit, a beautiful blonde sidepart Mitzi.
We speculated was there a red haired version? Stepping up to the plate, the lovely Karen has confirmed there is such a Mitzi and has generously added her pics to the Museum.
Thank you Karen for adding to our collective knowledge.
https://www.oursindymuseum.com/196768sindysnewfriends.htm

| | |
| --- | --- |
| Posted on October 11, 2020 at 3:45 PM | |
It's been a happy weekend chatting with a couple of lovely ladies who contacted the Museum about their 1960s Sindy Friends. I don't have any of Sindy's friends, as they are not what I collect, but still it was such a great joy to look at their lovely dolls.
I had been feeling for some time that this page needed updating because I felt it would be nice to add some more detail about the dolls themselves and I wanted to include the Mitzi and Betsy competition.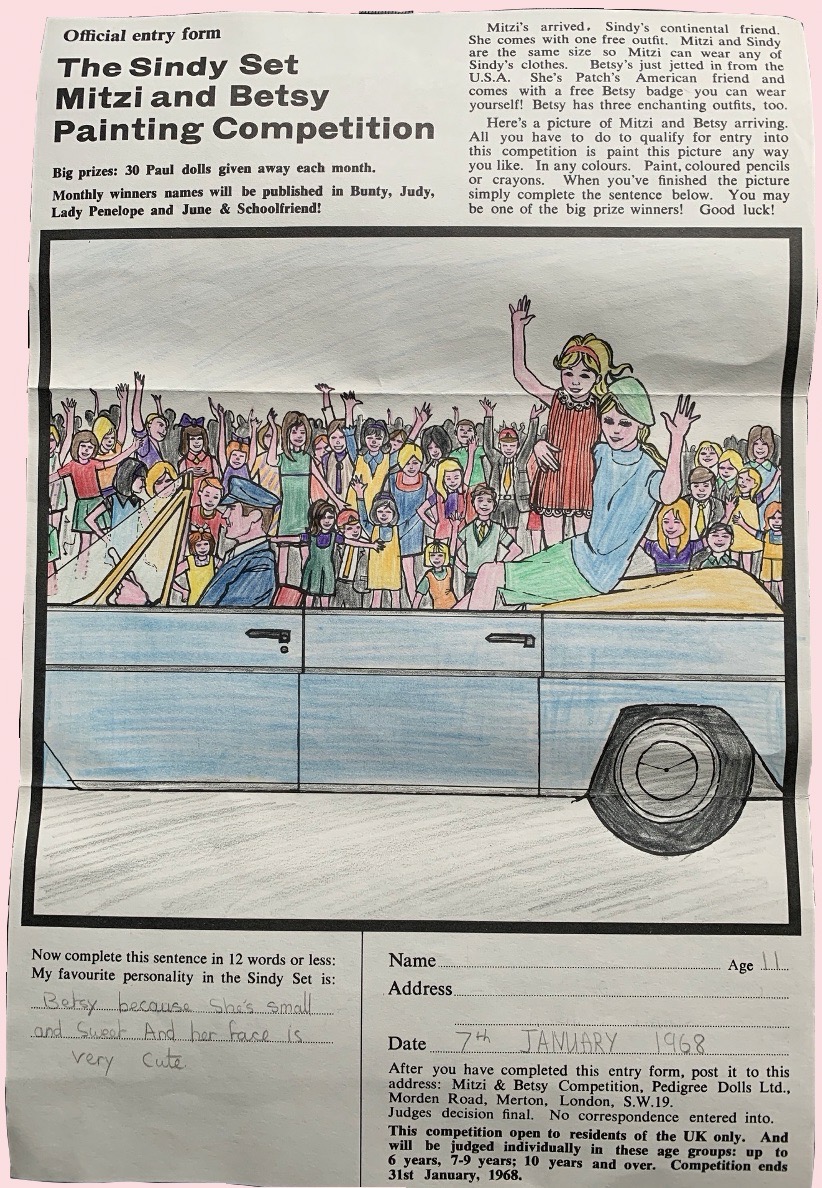 The 1967-68 Sindy's Friends page has been rewritten with additional information including this competition, boxed dolls for all four friends and a truly beautiful Mitzi Sidepart.
Grateful thanks to Gill and Lesley, two angels who patiently answered all my questions and provided so many photos to help me.
| | |
| --- | --- |
| Posted on May 10, 2020 at 1:20 PM | |
It's always a joy to amend the Museum when we find out something new. We always said we didn't know everything and would be happy to amend if other collectors had something we didn't know about. Today we have revised the 1970 Sindy Weekenders (Ref 12GSS) (Boxed doll outfit). We now know she did indeed wear an elasticated red headband thanks to the lovely Karie.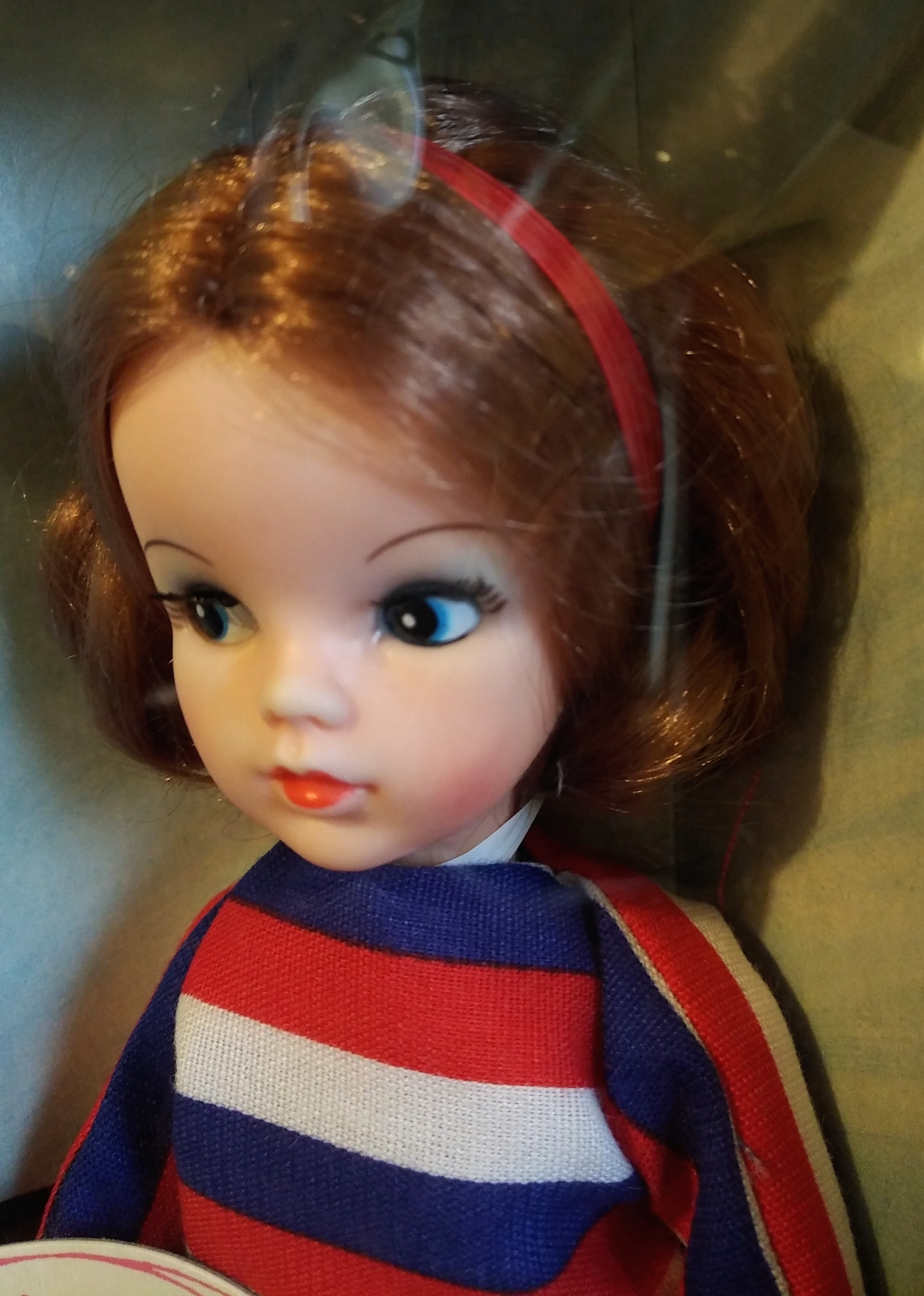 We have amended 1970 to show that this Sindy came with a headband and updated 1969 to refer to this discovery also. Thank you Karie for your attention and care.

| | |
| --- | --- |
| Posted on May 2, 2020 at 10:15 AM | |
The 1981 Sindy Outfits and Separates has now been added to the Museum.
It's as complete as we can get it for now. You will see that we are missing the Blue Party Time doll and we still don't know the answer to the Baby Blue lingerie set, so we have gone for the 1980 version for now. Sadly, nor can we shown the black Sindy which we believe was issued this year?

There are some possible dolls and or outfits which we haven't included yet because we cannot verify the year for certain:
The first is the bunches Sindy in the T-shirt and shorts sold in a bubble pack shown on page 163 of Colette Mansell's History of Sindy because we can't find another reference as to its year.

The second is the Funtime Sindy that was wearing the yellow shirt and red skirt that came with the Funtime Buggy.  We know of 3 of these sets Funtime Sindy with Dining Table and Chairs (Ref 44891), Funtime Sindy and her Country Garden  (Ref 44893) and Funtime Sindy with Camping Buggy and Tent Set (Ref unknown). There may be others.

If you can help to verify or add to any of these please do get in touch.
There are bound to be typos or errors which we will put right asap, after a while you get a bit boggled-eyed checking and proofing everything! If you spot anything no matter how small please let us know!
Also, any Sindy variations or anything else you have noted about this year are always welcome.
We sincerely hope you like the new page, it's been a long time coming but we got there in the end.
| | |
| --- | --- |
| Posted on April 26, 2020 at 3:05 PM | |
I was going to post 1981 today but I managed to mess up the site (you may have seen the sneak preview which I managed to publish on every page)! But every cloud has a silver lining, I was delayed, but someone wrote to me at the same time about a piece of missing Mix n Match I was looking for, so I am going to hang on for that and then publish what we have.
So instead here are my thoughts on Active Sindy, the ballerina. Now I think she was one of the most perfect fashion dolls ever made. A poseable doll is so much more accessible both for playing and displaying, and with 15 moveable joints, she was very poseable indeed. I always thought Sindy scored highly over for example Pailitoy Action Girl and Debenhams Victoria Jane (to name two UK dolls) because although they had beautiful faces their jointed limbs are not pretty (sorry it's what I think... no offence is intended). Sindy's covered jointed limbs are so very elegant in comparison. In addition, her iconic outfit was clever, a leotard and a tutu catering for both gymnastics and ballet. It's not a flashy outfit but still it is sophisticated in its simpleness. Lastly Pedigree ballet shoes are just great, for a toy doll they did the job and still look pretty good all these years later.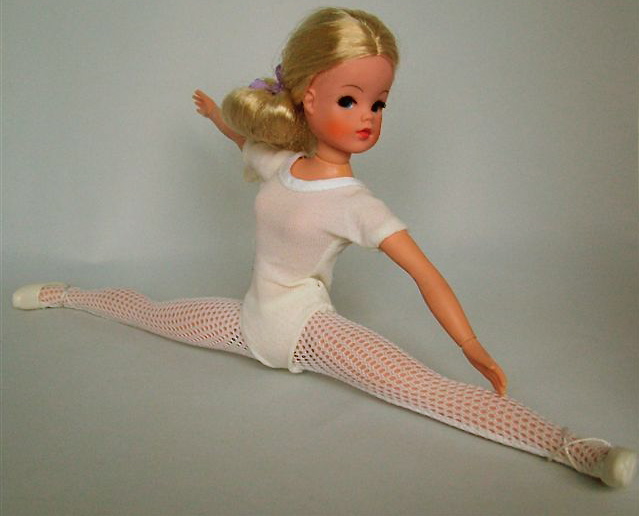 I first saw Active Sindy in an advert in the 1970s and I thought she was wonderful. I was a teenager when she was first issued and so really I was getting too old for dollies by then, but oh my I would have loved her!
I recently found the advert on YourTube and here is the link to it. It's not great quality, but I remember this so well even down to the music. I hope it brings back happy memories.
https://www.youtube.com/watch?v=AKRDwWiSraQ&list=PLAUg62Z3AWQC7P4NFWkAQVJGBS-WL7XFa&index=3&t=0s

Of course, being a collector is the perfect excuse to have a few ballerinas and perhaps even a room for some of them.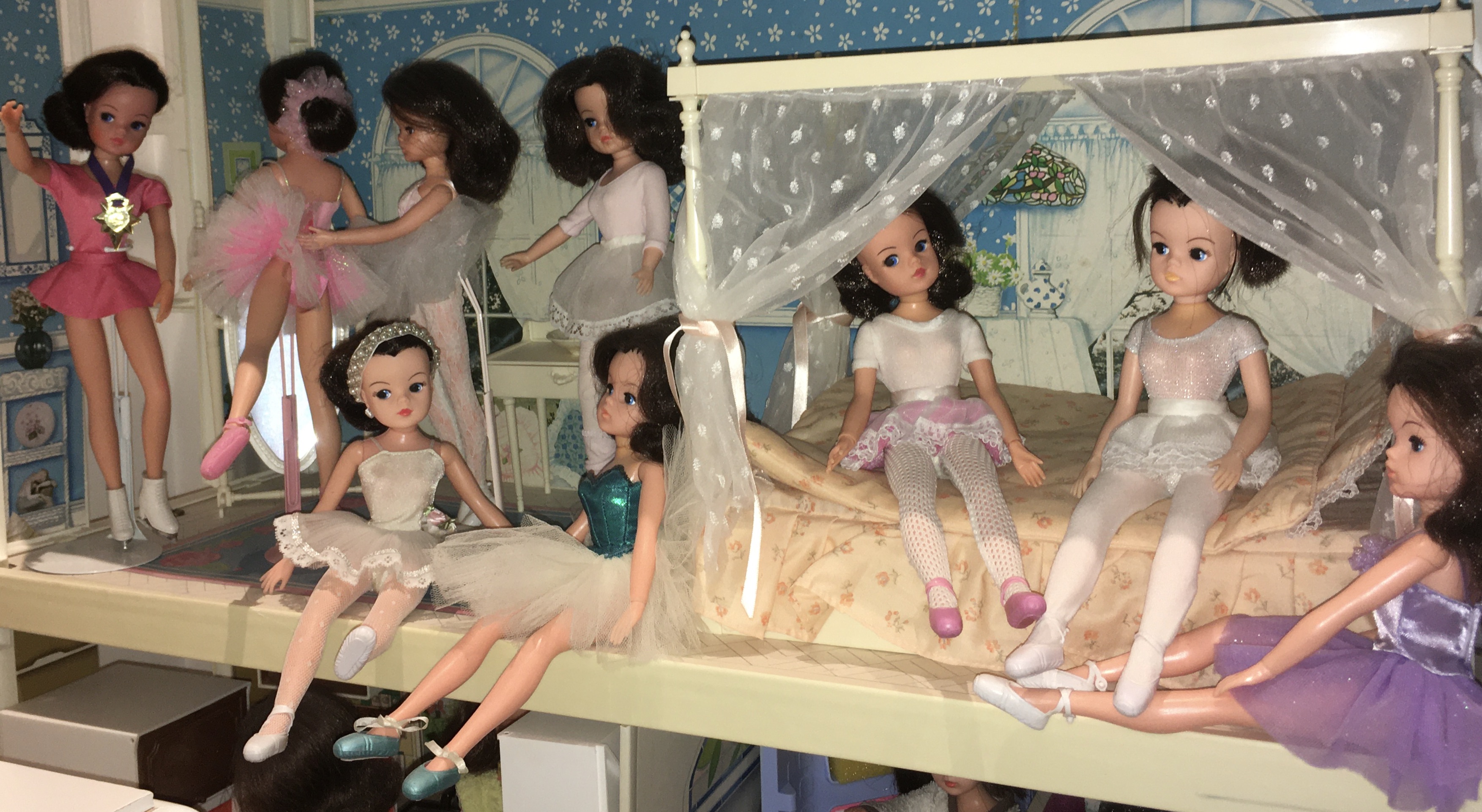 My Sindys wear all sorts, Sindy, Barbie, home made, I love all those little bits.
In writing about 1981, I noticed we never included a 2nd Gen Ballerina in the Museum. Probably because the outfit hadn't changed. So I have added one and here she is.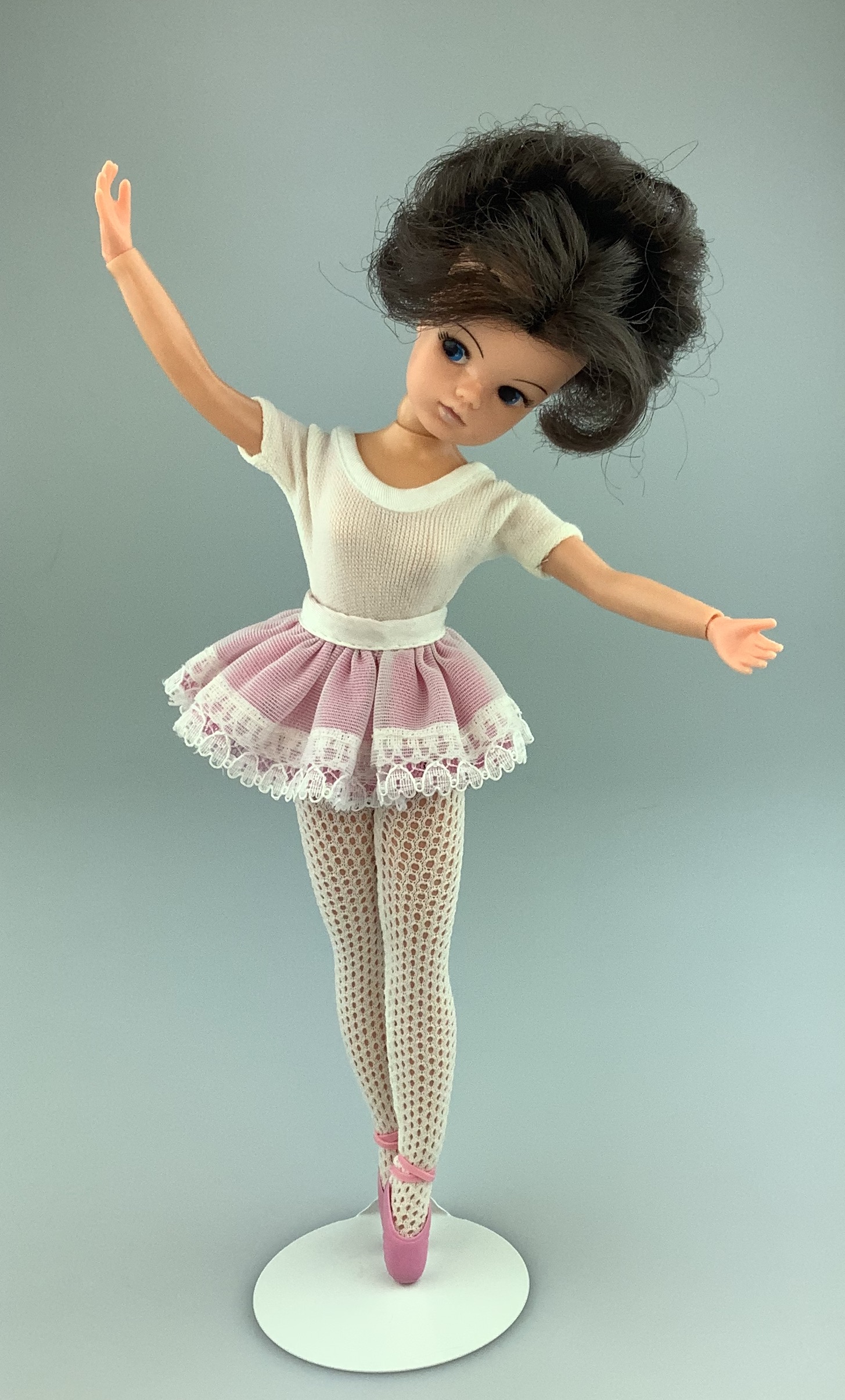 Who says 2nd Gens aren't beautiful?
I really should go back and add a 2nd Gen to the previous pages also. I will add that to the list!
Do you like ballerinas too? I would love to know if you do?